Google pitch decks are a powerful and professional way to present pitches and startups. A solid google pitch deck template can make all the difference when trying to convey your vision and can help you win over potential investors.
Selecting a good Google Slides pitch deck template is a great starting point that will help you design your pitch faster and can be a massive time saver if your a novice or new to creating presentations. Even for experienced users, starting from scratch can be needlessly time consuming and tedious and ultimately still not deliver the wow factor results that can be easily achieved by starting with and customizing a professionally designed template to your needs instead. Using professional pitch deck templates are also a great way to make sure all the information about your company, mission , projections, stakeholders etc. are properly covered and your presentation flows and transitions through all the details of your pitch in a manner that's seamless, professional & Impressive.
Google Slides is a great alternative presentation platform , not only is it free but there are hundreds upon hundreds of amazing pro designed templates out there to help you achieve the design your looking for. For those of you who are used to using Power Point or other paid premium presentation platforms we will cover a few reasons you may want to consider trying Google Slides and go over some basics to help you get started Creating your presentation!
A Few Reasons You Should Consider Google Slides
When it comes to presentation software PowerPoint and Keynote are typically the most commonly used for creating pitch decks or presentations. If you are already familiar with one of those two or maybe you are new to presentation software and are looking to decide a platform to learn there are some major benefits to considering Google Slides.
Google Slides is a free presentation software within the google productivity suite and capable of most if not all of the same features as PowerPoint or Keynote.
Google Slides saves your work to the cloud automatically so no headaches with lost unsaved work or power outages.
You can share and collaborate your work with your partners or colleagues on the fly.
Google Slides is a relatively easy to learn platform even for novices.
Google Slides is a online app which means no downloads , constant free updates and can be shared and accessed between your machines.
Google Slides allows online publishing so you can present it over the web or share your presentation to your audience via a shareable link.
Google Slides also keeps track of previous reiterations so you can restore your work if needed.
Why you should consider using a Google Slides Template over starting from scratch.
As mentioned previously , starting with a template on any presentation software is typically more efficient and better looking in the end for all but the most advanced users. While its certainly possible to create your Google Slides presentation from scratch we recommend you use one of the various widely available and attractive google slides templates to save time and create more professional looking presentations. Here are some other reasons we suggest starting out with a template:
Starting with a Google Slides template saves you allot of time because you don't need to bother with graphics , fonts or various other design elements , you only need to add your text , images and content.
Using a template insures you will have a professional design that will stand out and typically looks far better than made from scratch presentations unless you are an advanced user.
Google Slides templates come with many pre made slides and will flow well from one talking point to the next insuring all your points will be properly covered and you wont leave out vital information by mistake.
Modifying pre existing slides templates is as easy as drag and drop or click and add , so you can quickly change to your desired fonts , match colors to your brand or company , change out or add logos and so on.
Now that we have covered some good reasons to consider google slides , let's dive into a basic tutorial showing how you can easily use and customize Google Slides in no time at all!
Just as an example we are going to use this beautiful modern and professional template from our partners at the Envato marketplace called "Pitch Deck Digital" for Google Slides. This template pack was custom designed for pitch decks so it contains all the necessary slides to make a great pitch deck presentation right out of the box.
Plan out your Pitch Deck Presentation
Before you get started customizing your project its a good idea to first plan your presentation out and think about the main points you will want to cover along with any sub points as well as media and various other content you may want to include so that your customization process is as smooth and seamless as possible.
Lets start out by laying out the main Goal or vision you want to project with your presentation. By focusing on a main goal for your presentation this will help insure your pitch deck vision comes across to your audience and that you don't appear scattered or all over the place.
Just like any other presentation , article or paper you will want to make sure you do your proper homework , research not only the fine details of your topic , projections or goals but also become familiar with the potential investors or partners you plan to present to as this can be a make or break component of your overall presentation.
Once you're clear on your goal , company vision and or projections as well as your audience and vital points to cover, knowing what to include and highlight in your presentation becomes all the much easier.
Finding The Right Google Slides Template
Incase you haven't chosen one already your next step should be to find the right Google Slides pitch deck template that most closely matches your vision , aesthetic and style. You can find a huge variety of beautiful professional looking templates in our template store or you can search our partner authors here at the Envato Store , or if you cant find exactly what you need at either than you can contact us here or order a custom template designed from one of our Pro Presentation Techs via our selection of custom work and design offers.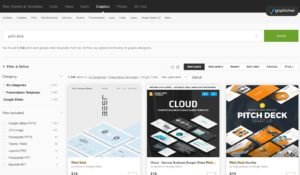 Start A New Presentation
Ok so once you finally have your preferred template picked out lets boot up google slides and get started. If you don't know where to find or launch Google Slides from you can start by opening up your google drive by going to "drive.google.com" in your web browser. After you have reached your google drive you will want to "New" button , then select "Google Slides" and go to "Blank Presentation". After you have successfully started up Google Slides you should see a new window with a blank presentation , your now ready to import your template.
Importing Your Google Slides Template
If your unsure how to import templates within Google Slides the process is simple , just click on "File" in the top left hand portion of your screen then you should see a button labeled "Import Slides" below , simply click on that and then click the "Upload" tab to locate the template from where ever you previously downloaded it on your machine ( typically the downloads or my documents folder). Next simply navigate to the directory your template is located and click on it or drag it to the Google Slides upload screen.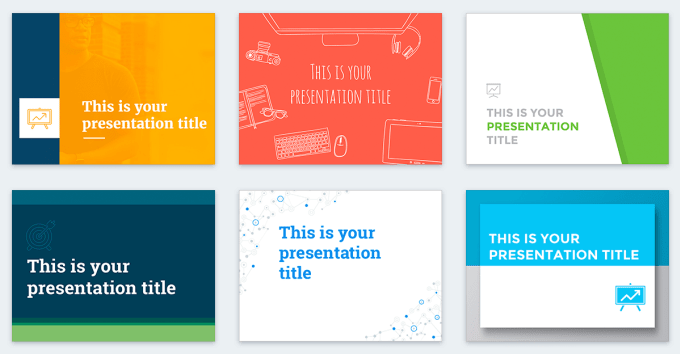 Next Google Slides will prompt you to select which slides you want to import so go ahead and click "select all" to load in all available slides , you can always remove unwanted slides later once they have been added to your session. The import process should only take a few moments afterwards you should be able to see all the available slides in your presentation.
Well that was easy huh? Next up after your slides have all loaded simply go through each slide by clicking on them from the left hand side , go through them all and delete any that you dont think you will need. To delete any unwanted slides simply right click on them and press delete , now that your selection has been trimmed its time to get started customizing.
Customizing & Adding Content
Adding your own content to your Google Slides template is very simple, just select the slide you want to work with and click on the text , you should then notice a text box where you can remove and replace the place holder text to what ever you like. If you want to remove all the text within a given box at once just select the box and press CNTRL plus A , after its highlighted just press delete and write in or paste in your own content as you wish. You can also customize the fonts if you would like to adjust them by opening the "font selection" tool on the top nav bar. Make sure to stick with larger font sizes for heading and body text so that your audience does not have trouble reading your words, also many themes come loaded with included font texts that are designed to match the overall theme aesthetic however your free to change them as you wish , we do suggest however not to go too wild with fonts as you can easily overwhelm your audience or come across as unprofessional from questionable font choices.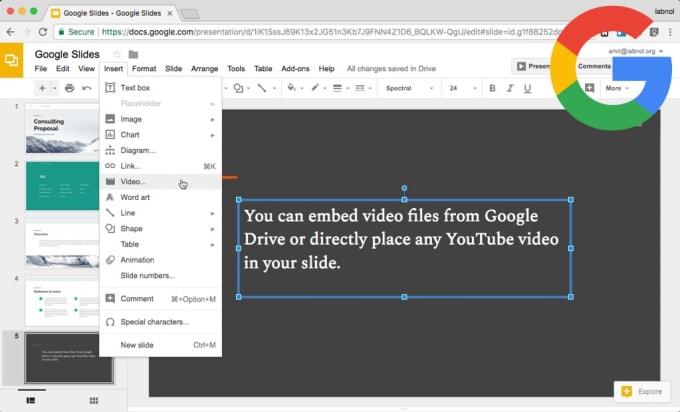 Change Or Match Your Colors
After you have customized your content you can now adjust any colors you would like to change or match to your brand / company color pallet. Color matching is not always necessary but doing so especially in corporate environments often comes off as more professional and generally looks better than random or stock , especially in slides where your logo is present.
You can change the colors used by your template by simply clicking on "view" – "master" after that select "colors" and select your desired color from the drop down menu.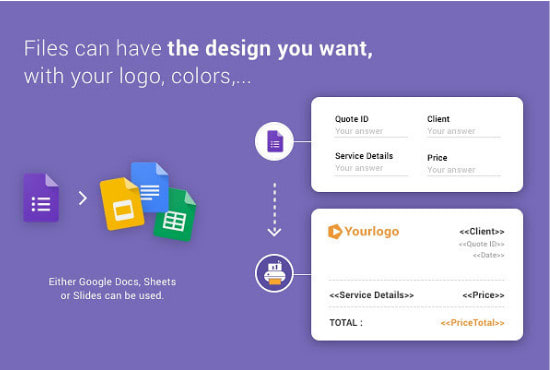 If you are trying to match colors exactly , for example the colors from your company pallet or logo etc. than you may want to select the hex color selector to get a more exact match , you can visit a hex color matching website like https://imagecolorpicker.com and upload a logo or image and it will read out the exact color hex code for you that you can then input into Google Slides to make it easier. Lastly always make sure to go back through all your slides to insure your color selections are cohesive or that you didn't forget to edit a slide completely.
Add In Your Images
Last step your almost done! Now your going to want to add your own images to the presentation and or replace any place holder images. Adding images is just as simple as text and color just select a slide you want to change that has a blank image or place holder image then click on the "insert image" tab, you can upload a image directly from your computer or from google drive if thats where you store your images instead. Just repeat the same process for all your slides and your done. Make sure to only upload good quality images , they don't have to be ultra hd but keep in mind when your presentation is scaled to a larger screen a bad image will look much worse and you don't want blurry or hard to make out images in your presentation.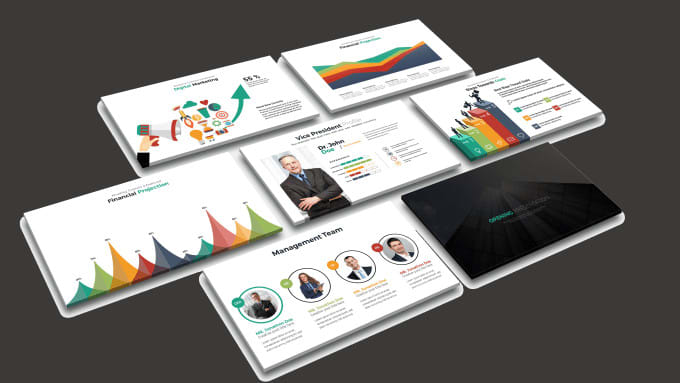 Practice Makes Perfect
Now that you have the basics down for Google Slides pitch deck creation don't be afraid to experiment , try out different templates and get the opinion of your friends or colleagues before you present your presentation. Also feel free to share your work and ask for feedback or assistance via our community forum. We realize not everyone has the time or patience to create theyre own presentations so if things just aren't clicking and you feel like you need additional assistance or would prefer to have your company presentation or pitch deck created by the Pros than don't hesitate to contact us or pick up one of our custom options from one on one coaching to complete beginning to end custom presentation creation from our team via your presentation software of choice, we even have writers that can create your pitch deck content!